Meeting and Event Planner Solutions
Trusted by Governments and Corporations.
Put these proven tools to work for you.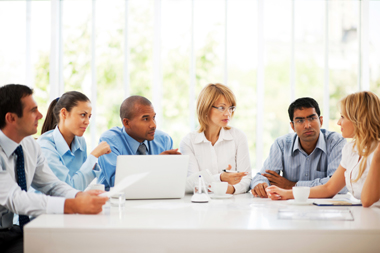 The Meeting Planner
Ideal to Schedule meetings, conferences, phone calls or video conferences.
Use The Meeting Planner to find the time of day for any given date across multiple time zones and determine in advance the best time of day to schedule your event.

As an example if you schedule your event for 10:00 AM in New York what time will it be in Los Angeles, California? Answer: 6:00AM and in Hawaii it would be 4:00 AM! Use the Meeting Planner to find a more suitable time for all.
Schedule Time and Dates in Advance
Printable Table
Share URL Link automatically generated
Add to Outlook Calendar

The Meeting Planner - How To Use It
Takes less than 1 minute to setup and share yet saves hours of time.
Step 1 - The Meeting Planner - Select Dates and Locations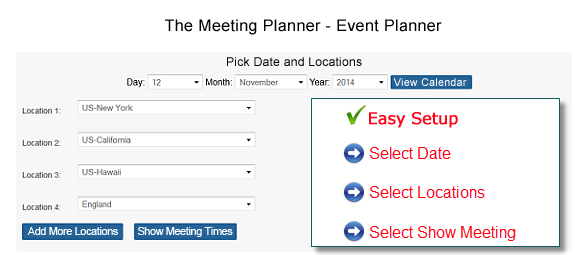 Step 2 - View Results - Showing Times for Each Location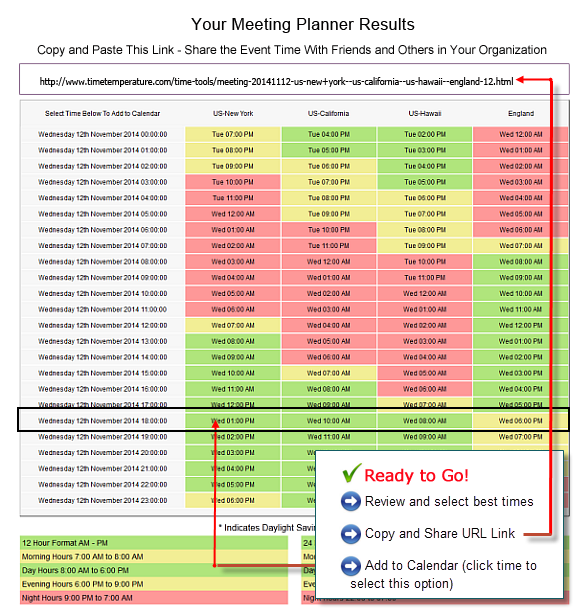 Step 3 - Optional - Add to Outlook or Calendar