BRAZIL TIME ZONES - BRAZIL CURRENT TIME

Brazil uses four standard time zones. From west to east UTC/GMT - 5 is observed in Acre and thirteen municipalities in western Amazonas. UTC/GMT - 4 is observed in five western states. UTC/GMT - 3 is used in twenty-one central and eastern states, including the capital of Brasilia and UTC/GMT -2 is observed in several islands off the east coast of Brazil, including the twenty one islands in the archipelago of Fernando de Noronha.

In 2008 the Brazilian Government moved states which had been observing UTC/GMT - 5 into the UTC/GMT - 4 time zone. This included the state of Acre and other municipalities southwest of the Amazon rainforest. In October 2010 a referendum was held in Acre in which a majority of voters indicated their desire to move back to the UTC/GMT - 5 time zone. This change back to UTC/GMT - 5 was finally approved for Acre and thirteen municipalities in western Amazonas in October 2013 with an effective date of November 10, 2013.

UPDATE: The government of Brazil had previously announced daylight saving time would not be observed in 2019-2020 and daylight saving time has not been observed since. It is not yet clear if daylight saving time has been abolished permanently.

In previous years Daylight Saving Time in Brazil has been observed by most of the southern, south-eastern and central-western states which includes, Espirito Santo, the Federal District, Goias, part of Mato Grosso, Mato Grosso do Sul, Minas Gerais, Parana, Rio de Janeiro, Rio Grande do Sul, Santa Catarina, and Sao Paulo. Daylight saving time is not observed in the north and north-eastern states.


Brazil Time Zone Map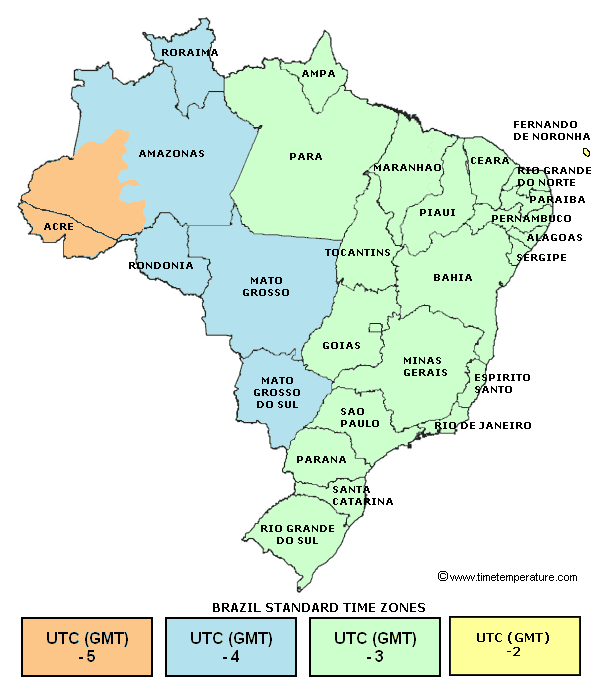 Brazil Current Times
Acre
Alagoas
Amapa
Saturday
12/2/2023
7:54 PM
UTC-05:00

Saturday
12/2/2023
9:54 PM
UTC-03:00

Saturday
12/2/2023
9:54 PM
UTC-03:00

Amazonas (western)
Amazonas (eastern)
Bahia
Saturday
12/2/2023
7:54 PM
UTC-05:00

Saturday
12/2/2023
8:54 PM
UTC-04:00

Saturday
12/2/2023
9:54 PM
UTC-03:00

Ceara
Espirito Santo
Federal District
Saturday
12/2/2023
9:54 PM
UTC-03:00

Saturday
12/2/2023
9:54 PM
UTC-03:00

Saturday
12/2/2023
9:54 PM
UTC-03:00

Fernando de Noronha
Goias
Maranhao
Saturday
12/2/2023
10:54 PM
UTC-02:00

Saturday
12/2/2023
9:54 PM
UTC-03:00

Saturday
12/2/2023
9:54 PM
UTC-03:00

Mato Grosso - Most
Mato Grosso - Exceptions
no DST
Mato Grosso do Sul
Saturday
12/2/2023
8:54 PM
UTC-04:00

Saturday
12/2/2023
8:54 PM
UTC-04:00

Saturday
12/2/2023
8:54 PM
UTC-04:00

Minas Gerais
Para
Paraiba
Saturday
12/2/2023
9:54 PM
UTC-03:00

Saturday
12/2/2023
9:54 PM
UTC-03:00

Saturday
12/2/2023
9:54 PM
UTC-03:00

Parana
Pernambuco
Piaui
Saturday
12/2/2023
9:54 PM
UTC-03:00

Saturday
12/2/2023
9:54 PM
UTC-03:00

Saturday
12/2/2023
9:54 PM
UTC-03:00

Rio de Janeiro
Rio Grande do Norte
Rio Grande do Su
Saturday
12/2/2023
9:54 PM
UTC-03:00

Saturday
12/2/2023
9:54 PM
UTC-03:00

Saturday
12/2/2023
9:54 PM
UTC-03:00

Rondonia
Roraima
Santa Catarina
Saturday
12/2/2023
8:54 PM
UTC-04:00

Saturday
12/2/2023
8:54 PM
UTC-04:00

Saturday
12/2/2023
9:54 PM
UTC-03:00

Sao Paulo
Sergipe
Tocantins
Saturday
12/2/2023
9:54 PM
UTC-03:00

Saturday
12/2/2023
9:54 PM
UTC-03:00

Saturday
12/2/2023
9:54 PM
UTC-03:00

State

UTC - Offset
Standard Time

Observe Daylight Savings Time

UTC - Offset
DST Time

Acre

UTC-5

No

None

Alagoas

UTC-3

No

None

Amapa

UTC-3

No

None

Amazonas (western)

UTC-5

No

None

Amazonas (eastern)

UTC-4

No

None

Bahia

UTC-3

No

None

Ceara

UTC-3

No

None

Espirito Santo

UTC-3

No

UTC-2

Federal District

UTC-3

No

UTC-2

Goias

UTC-3

No

UTC-2

Fernando de Noronha

UTC-2

No

None

Maranhao

UTC-3

No

None

Mato Grosso (most of)

UTC-4

No

UTC-3

Mato Grosso (few municipalities)

UTC-4

No

None

Mato Grosso do Sul

UTC-4

No

UTC-3

Minas Gerais

UTC-3

No

UTC-2

Para

UTC-3

No

None

Paraiba

UTC-3

No

None

Parana

UTC-3

No

UTC-2

Pernambuco

UTC-3

No

None

Piaui

UTC-3

No

None

Rio de Janeiro

UTC-3

No

UTC-2

Rio Grande do Norte

UTC-3

No

None

Rio Grande do Sul

UTC-3

No

UTC-2

Rondonia

UTC-4

No

None

Roraima

UTC-4

No

None

Santa Catarina

UTC-3

No

UTC-2

Sao Paulo

UTC-3

No

UTC-2

Sergipe

UTC-3

No

None

Tocantins

UTC-3

No

None
Time Zone Look Up by Country with Current Local Times