MEXICO TIME ZONES

Mexico uses four time zones. Most of the country uses Central Standard which is officially named Zona Centro or Central Zone. The Mexico state of Quintana Roo uses Eastern Standard Time officially named Zona Sureste or Southeast Zone.
The states of Chihuahua, Nayarit, Sonora, Sinaloa and Baja California Sur use Mountain Standard Time officially named Zona Pacifico or Pacific Zone and Baja California Norte uses Pacific Standard Time officially named Zona Noroeste or Northwest Zone.

All island territories including reefs and keys observe the time zone based upon the longitude of their location.

Previously Mexico used three time zones. Effective February 1, 2015 at 2:00 am local time the state of Quintana Roo advanced clocks forward by one hour and now observe the newly created time zone named Zona Sureste or Eastern Standard Time.
Daylight Saving Time begins at 2:00 a.m. local time on the first Sunday in April. On the last Sunday in October areas on Daylight Saving Time fall back to Standard Time at 2:00 a.m. The names in each time zone change along with Daylight Saving Time. Central Standard Time (CST) becomes Central Daylight Time (CDT), and so forth. The states of Sonora and Quintana Roo do not observe Daylight Saving Time.
In 2010 ten Mexico municipalities which share a border with the United States began a pattern of starting daylight saving time three weeks earlier on the second Sunday in March and ending on the first Sunday in November. Previously all of Mexico, with the exception of the state of Sonora which does not observe daylight saving time, began and ended daylight saving time at the same time. The Congress of Mexico passed legislation in December 2009 which allowed these ten border cities to adopt a daylight saving time pattern consistent with the United States. Read more.
Mexico Time Zone Map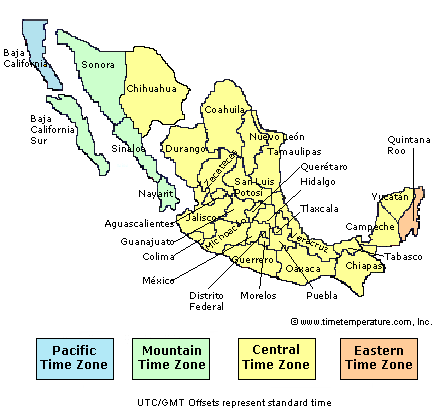 Zona Noroeste
Pacific Time
Most Areas
Zona Pacifico
Mountain Time
Most Areas
Zona Centro
Central Time
Most Areas
Zona Sureste
Eastern Time
Quintana Roo
Friday
8/12/2022
8:31 PM
PDT

Friday
8/12/2022
9:31 PM
MDT

Friday
8/12/2022
10:31 PM
CDT

Friday
8/12/2022
10:31 PM
EST

Zona Noroeste
Pacific Time
Border Region
Zona Pacifico
Mountain Time
Border Region
Zona Centro
Central Time
Border Region
UTC
Time

Friday
8/12/2022
8:31 PM
PDT

Friday
8/12/2022
9:31 PM
MDT

Friday
8/12/2022
10:31 PM
CDT

Saturday
08/13/22
03:31 AM
+00:00

Some border areas observe an extended daylight saving time schedule
Time Zone Look Up by State with Current Local Times