SOUTH AMERICA TIME ZONES - CURRENT TIME

South America uses five standard time zones. From west to east they are UTC - 5, UTC - 4, UTC - 4:30, UTC - 3 and UTC - 2. Countries in South America which use the UTC - 5 time zone are part of Brazil, Colombia, Ecuador and Peru. UTC - 4:30 is the standard time in Venezuela. UTC - 4 is the standard time in Bolivia, part of Brazil, Chile, and Paraguay. UTC - 3 is the standard time for Argentina, part of Brazil and Uruguay. Several islands off the east coast of Brazil, including the twenty one islands in the archipelago of Fernando de Noronha observe UTC - 2 standard time. Easter Island which is a special territory of Chile and the Galapagos Islands which are a part of Ecuador observe UTC - 6 standard time. Most countries in Central America use the UTC - 6 time zone except for Panama which observes UTC - 5.

Brazil uses four time zones. Much of Brazil follows Brasilia official time which is UTC - 3. The government of Brazil has announced daylight saving time will not be observed in 2019-2020. It is not yet clear if daylight saving time has been abolished permanently. Previously daylight saving time was scheduled to begin November 3, 2019 and end February 16, 2020. View more information about time zones and daylight saving time in Brazil.

Daylight Saving Time in South America is used by several countries, including Chile, Easter Island, Falkland Islands, and Paraguay. The Falkland Islands are currently observing daylight saving time year round. Due to their global position south of the equator, countries in South America usually start daylight saving time in October or November and end the usage in January through March.

In June 2015 the government of Uruguay made a decision not to start daylight saving time in October as they had in previous years. As a result Uruguay has remained on standard time UTC/GMT -3.

The government of Venezuela announced the country will observe UTC/GMT -4 effective May 1, 2016 at 2:30 am local time. This change resulted in clocks being moved forward thirty minutes. Previously Venezuela observed UTC -4:30. The change is due to concerns about a potential disruption of electrical power as a result of a continuing drought in the country.

In March 2016 authorities in Chile announced the country would end the use of observing UTC/GMT -3 year round and turn clocks back one hour as of May 14, 2016 (Midnight between Saturday and Sunday). The country remained on its previous standard time UTC/GMT -4 from May 15, 2016 through August 13, 2016. Then from August 14, 2016 until Sunday May 14, 2017 Chile utilized daylight saving time.

When daylight saving time ended on May 14, 2017 in Chile the Magallanes Region remained on daylight saving time year round. This will result in the Magallanes Region, including the capital city Punta Arenas and all provinces in the region, observing UTC/GMT -3.


South America Time Zone Map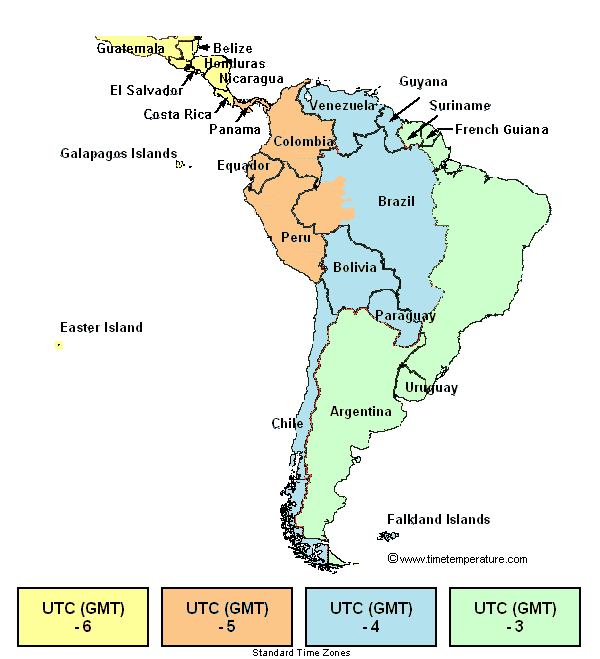 South America Current Times
Select Country From Menu Below to View Details
Argentina
Bolivia
Chile
Sunday
10/1/2023
6:00 PM
UTC-03:00

Sunday
10/1/2023
5:00 PM
UTC-04:00

Sunday
10/1/2023
6:00 PM
UTC-03:00

Brazil - Federal District
Brazil - Rio de Janeiro
Brazil -Sao Paulo
Sunday
10/1/2023
6:00 PM
UTC-03:00

Sunday
10/1/2023
6:00 PM
UTC-03:00

Sunday
10/1/2023
6:00 PM
UTC-03:00

Columbia
Easter Island
Ecuador
Sunday
10/1/2023
4:00 PM
UTC-05:00

Sunday
10/1/2023
4:00 PM
UTC-05:00

Sunday
10/1/2023
4:00 PM
UTC-05:00

Falkland Islands
French Guiana
Galapagos Islands
Sunday
10/1/2023
6:00 PM
UTC-03:00

Sunday
10/1/2023
6:00 PM
UTC-03:00

Sunday
10/1/2023
3:00 PM
UTC-06:00

Guyana
Paraguay
Peru
Sunday
10/1/2023
5:00 PM
UTC-04:00

Sunday
10/1/2023
6:00 PM
UTC-03:00

Sunday
10/1/2023
4:00 PM
UTC-05:00

Suriname
Uruguay
Venezuela
Sunday
10/1/2023
6:00 PM
UTC-03:00

Sunday
10/1/2023
6:00 PM
UTC-03:00

Sunday
10/1/2023
5:00 PM
UTC-04:00

Place

Time Zone
Abbreviations

UTC - Offset Standard Time

Observe Daylight Savings Time

UTC - Offset DST Time

Argentina

ART

UTC-3

No

None

Bolivia

BOT

UTC-4

No

None

Brazil more details

BRT / BRST

UTC-3

Yes

UTC-2

Brazil more details

BRT

UTC-4

Yes

UTC-3

Chile

CLT

UTC-4

Yes

UTC-3

Colombia

COT

UTC-5

No

None

Easter Island

EAST

UTC-6

Yes

UTC-5

Ecuador

ECT

UTC-5

No

None

Falkland Islands

FKT / FKST

UTC-4

Yes

UTC-3

Fernando de Noronha

FNT

UTC-2

No

None

French Guiana

GFT

UTC-3

No

None

Galapagos Islands

GALT

UTC-6

No

None

Guyana

GYT

UTC-4

No

None

Paraguay

PYT / PYST

UTC-4

Yes

UTC-3

Peru

PET

UTC-5

No

None

Suriname

SRT

UTC-3

No

None

Uruguay

UYT

UTC-3

No

None

Venezuela

VET

UTC-4:30

No

None
Time Zone Look Up by Country with Current Local Times