AFRICA TIME ZONES

Africa uses six time zones and thirteen standard time zone names to describe them. Africa time zone offsets range from UTC/GMT -1 to UTC/GMT + 4. From west to east the time zones in Africa are:

(UTC/GMT -1) Cape Verde Time Zone. (UTC/GMT +0) Greenwich Mean Time Zone, Western European Time Zone and Western Sahara Time Zone. (UTC/GMT +1) Central European Time Zone and West Africa Time Zone. (UTC/GMT +2 ) Central Africa Time Zone, Eastern European Time Zone, and South Africa Time Zone. (UTC/GMT +3) East Africa Time Zone. (UTC/GMT +4) Mauritius Time Zone, Reunion Time Zone and Seychelles Time Zone.
Daylight Saving Time (DST) is not used in most of Africa. However, the countries of Libya, Morocco, Namibia, and Western Sahara do observe Daylight Saving Time. Tunisia ended the use of daylight saving time in 2009. The names in each time zone change during daylight saving time. View Africa Time Zone abbreviations for more details.
In 2013 Libya delayed the end of Daylight Saving Time. Currently Libya is observing daylight saving time year round. In April 2015 Egypt's cabinet has announced the country will not observe daylight saving time during 2015.
Africa Time Zone Map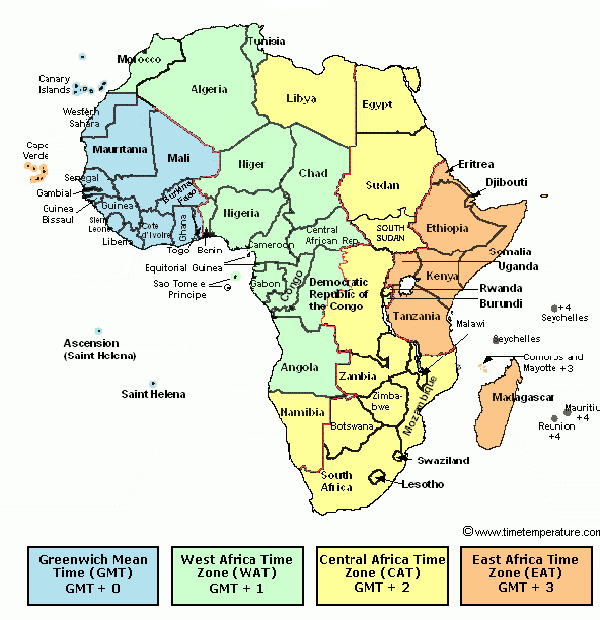 Note: Cape Verde Time is UTC/GMT -1 and Mauritius Time and Seychelles are UTC/GMT +4.
Cape Verde
Time
UTC/GMT
Time
West Africa
UTC/GMT + 1
Wednesday
9/20/2017
8:25 AM

Wednesday
9/20/2017
9:25 AM

Wednesday
9/20/2017
10:25 AM

Central Africa
UTC/GMT + 2
East Africa
UTC/GMT + 3
Seychelles
UTC/GMT + 4
Wednesday
9/20/2017
11:25 AM

Wednesday
9/20/2017
12:25 PM

Wednesday
9/20/2017
1:25 PM

Africa Current Times
Select Country From Menu Below to View Details
Algeria
Angola
Benin
Wednesday
9/20/2017
10:25 AM
UTC+01:00

Wednesday
9/20/2017
10:25 AM
UTC+01:00

Wednesday
9/20/2017
10:25 AM
UTC+01:00

Botswana
Burkina Faso
Burundi
Wednesday
9/20/2017
11:25 AM
UTC+02:00

Wednesday
9/20/2017
9:25 AM
UTC+00:00

Wednesday
9/20/2017
11:25 AM
UTC+02:00

Cameroon
Cape Verde
Central African Republic
Wednesday
9/20/2017
10:25 AM
UTC+01:00

Wednesday
9/20/2017
8:25 AM
UTC-01:00

Wednesday
9/20/2017
10:25 AM
UTC+01:00

Chad
Comoros
Congo Republic of
Wednesday
9/20/2017
10:25 AM
UTC+01:00

Wednesday
9/20/2017
12:25 PM
UTC+03:00

Wednesday
9/20/2017
10:25 AM
UTC+01:00

Cote d'Ivoire
Congo (DRC) Kinshasa
Congo (DRC Lubumbashi)
Wednesday
9/20/2017
9:25 AM
UTC+00:00

Wednesday
9/20/2017
10:25 AM
UTC+01:00

Wednesday
9/20/2017
11:25 AM
UTC+02:00

Djibouti
Egypt
Equatorial Guinea
Wednesday
9/20/2017
12:25 PM
UTC+03:00

Wednesday
9/20/2017
11:25 AM
UTC+02:00

Wednesday
9/20/2017
10:25 AM
UTC+01:00

Eritrea
Ethiopia
Gabon
Wednesday
9/20/2017
12:25 PM
UTC+03:00

Wednesday
9/20/2017
12:25 PM
UTC+03:00

Wednesday
9/20/2017
10:25 AM
UTC+01:00

Gambia
Ghana
Guinea
Wednesday
9/20/2017
9:25 AM
UTC+00:00

Wednesday
9/20/2017
9:25 AM
UTC+00:00

Wednesday
9/20/2017
9:25 AM
UTC+00:00

Guinea Bissau
Kenya
Lesotho
Wednesday
9/20/2017
9:25 AM
UTC+00:00

Wednesday
9/20/2017
12:25 PM
UTC+03:00

Wednesday
9/20/2017
11:25 AM
UTC+02:00

Liberia
Libya
Madagascar
Wednesday
9/20/2017
9:25 AM
UTC+00:00

Wednesday
9/20/2017
11:25 AM
UTC+02:00

Wednesday
9/20/2017
12:25 PM
UTC+03:00

Malawi
Mali
Mauritania
Wednesday
9/20/2017
11:25 AM
UTC+02:00

Wednesday
9/20/2017
9:25 AM
UTC+00:00

Wednesday
9/20/2017
9:25 AM
UTC+00:00

Mauritius
Mayotte
Morocco
Wednesday
9/20/2017
1:25 PM
UTC+04:00

Wednesday
9/20/2017
12:25 PM
UTC+03:00

Wednesday
9/20/2017
10:25 AM
UTC+01:00

Mozambique
Namibia
Niger
Wednesday
9/20/2017
11:25 AM
UTC+02:00

Wednesday
9/20/2017
11:25 AM
UTC+02:00

Wednesday
9/20/2017
10:25 AM
UTC+01:00

Nigeria
Reunion
Rwanda
Wednesday
9/20/2017
10:25 AM
UTC+01:00

Wednesday
9/20/2017
1:25 PM
UTC+04:00

Wednesday
9/20/2017
11:25 AM
UTC+02:00

Saint Helena
Sao Tome e Principe
Senegal
Wednesday
9/20/2017
9:25 AM
UTC+00:00

Wednesday
9/20/2017
9:25 AM
UTC+00:00

Wednesday
9/20/2017
9:25 AM
UTC+00:00

Seychelles
Sierra Leone
Somalia
Wednesday
9/20/2017
1:25 PM
UTC+04:00

Wednesday
9/20/2017
9:25 AM
UTC+00:00

Wednesday
9/20/2017
12:25 PM
UTC+03:00

South Africa
South Sudan
Sudan
Wednesday
9/20/2017
11:25 AM
UTC+02:00

Wednesday
9/20/2017
12:25 PM
UTC+03:00

Wednesday
9/20/2017
12:25 PM
UTC+03:00

Swaziland
Tanzania
Togo
Wednesday
9/20/2017
11:25 AM
UTC+02:00

Wednesday
9/20/2017
12:25 PM
UTC+03:00

Wednesday
9/20/2017
9:25 AM
UTC+00:00

Tunisia
Uganda
Western Sahara
Wednesday
9/20/2017
10:25 AM
UTC+01:00

Wednesday
9/20/2017
12:25 PM
UTC+03:00

Wednesday
9/20/2017
10:25 AM
UTC+01:00

Zambia
Zimbabwe
UTC / GMT
Wednesday
9/20/2017
11:25 AM
UTC+02:00

Wednesday
9/20/2017
11:25 AM
UTC+02:00

Wednesday
09/20/17
09:25 AM
UTC/GMT+00:00

Time Zone Look Up by Country with Current Local Times