SOUTH AMERICA TIME ZONES - CURRENT TIME

South America uses five standard time zones. From west to east they are UTC - 5, UTC - 4, UTC - 4:30, UTC - 3 and UTC - 2. Countries in South America which use the UTC - 5 time zone are part of Brazil, Colombia, Ecuador and Peru. UTC - 4:30 is the standard time in Venezuela. UTC - 4 is the standard time in Bolivia, part of Brazil, Chile, and Paraguay and UTC - 3 is the standard time for Argentina, part of Brazil and Uruguay. Several islands off the east coast of Brazil, including the twenty one islands in the archipelago of Fernando de Noronha observe UTC - 2 standard time. Easter Island which is a special territory of Chile and the Galapagos Islands which are a part of Ecuador observe UTC - 6 standard time. Most countries in Central America use the UTC - 6 time zone except for Panama which observes UTC - 5.

Brazil uses four time zones. Much of Brazil follows Brasilia official time which is UTC - 3. Daylight Saving Time in Brazil is observed by most of the southern, southeastern and central western states. View more information about time zones and daylight saving time in Brazil.

Daylight Saving Time in South America is used by several countries, including Brazil, Chile, Paraguay and Uruguay. In addition, Easter Island and the Falkland Islands, use daylight saving time. The beginning and ending times vary for each country. Due to their global position south of the equator, countries in South America usually start daylight saving time in October or November and end the usage in January through March.
South America Time Zone Map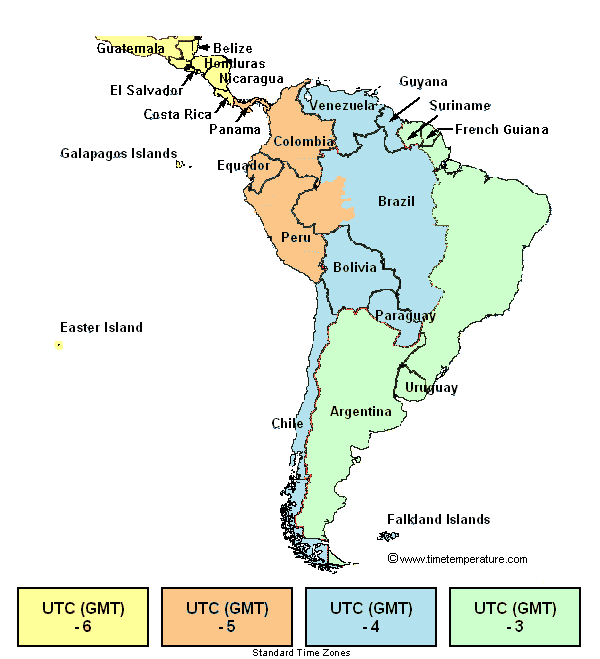 Standard Times in South America
UTC/GMT - 5
Standard Time
UTC/GMT - 4:30
Standard Time
UTC/GMT - 4
Standard Time
UTC/GMT - 3
Standard Time
UTC/GMT - 2
Standard Time
Sunday
12/8/2013
8:14am
UTC/GMT -5

Sunday
12/8/2013
8:44am
UTC/GMT -4:30

Sunday
12/8/2013
9:14am
UTC/GMT -4

Sunday
12/8/2013
10:14am
UTC/GMT -3

Sunday
12/8/2013
11:14am
UTC/GMT -2

Daylight Saving Time is used in South America by
Brazil, Chile, Paraguay, Uruguay, Easter Island, Falkland Islands
Chile
Paraguay
Uruguay
Easter Island
Falkland Islands
Sunday
12/8/2013
10:14am
UTC/GMT -3

Sunday
12/8/2013
10:14am
UTC/GMT -3

Sunday
12/8/2013
11:14am
UTC/GMT -2

Sunday
12/8/2013
8:14am
UTC/GMT -5

Sunday
12/8/2013
10:14am
UTC/GMT -3

Brazil Current Times
UTC - 5
year round
UTC - 4
year round
UTC - 4 Winter
UTC -3 Summer
UTC - 3
year round
UTC - 3 Winter
UTC -2 Summer
UTC - 2
year round

States of
Acre
Part of Amazonas


States of
Part of Amazonas
part of Mato Grosso
Rondonia
Roraima



States of
part of Mato Grosso
Mato Grosso do Sul



States of
Alagoas | Ampa
Bahia
Ceara
Maranhao
Para | Paraiba
Pernambuco
Piaui
Rio Grande Norte
Sergipe
Tocantins

States of
Espirito Santo
Federal District
Goias
Minas Gerais
Parana
Rio de Janeiro
Rio Grande Sul
Santa Catarina
Sao Paulo

Islands and
Archipelago
Fernando de Noronha

Trindade
Martim Vaz
Sunday
12/8/2013
8:14am
UTC/GMT -5

Sunday
12/8/2013
9:14am
UTC/GMT -4

Sunday
12/8/2013
10:14am
UTC/GMT -3

Sunday
12/8/2013
10:14am
UTC/GMT -3

Sunday
12/8/2013
11:14am
UTC/GMT -2

Sunday
12/8/2013
11:14am
UTC/GMT -2

Place

Time Zone
Abbreviations

UTC - Offset Standard Time

Observe Daylight Savings Time

UTC - Offset DST Time

Argentina

ART

UTC-3

No

None

Bolivia

BOT

UTC-4

No

None

Brazil (where using dst) more details

BRT / BRST

UTC-3

Yes

UTC-2

Brazil (where using dst) more details

BRT

UTC-4

Yes

UTC-3

Chile

CLT / CLST

UTC-4

Yes

UTC-3

Colombia

COT

UTC-5

No

None

Easter Island

EAST / EASST

UTC-6

Yes

UTC-5

Ecuador

ECT

UTC-5

No

None

Falkland Islands

FKT / FKST

UTC-4

Yes

UTC-3

Fernando de Noronha

FNT

UTC-2

No

None

French Guiana

GFT

UTC-3

No

None

Galapagos Islands

GALT

UTC-6

No

None

Guyana

GYT

UTC-4

No

None

Paraguay

PYT / PYST

UTC-4

Yes

UTC-3

Peru

PET

UTC-5

No

None

Suriname

SRT

UTC-3

No

None

Uruguay

UYT

UTC-3

Yes

UTC-2

Venezuela

VET

UTC-4:30

No

None
Time Zone Look Up by Country with Current Local Times