RUSSIA TIME ZONES - RUSSIA CURRENT TIMES

Russia uses nine standard time zones, Kaliningrad Time UTC + 3, Moscow Time UTC +4, Yekaterinburg Time UTC +6, Omsk Time UTC + 7, Krasnoyarsk Time UTC + 8, Irkutsk Time UTC + 9, Yakutsk Time UTC + 10, Vladivostok Time UTC + 11, and Magadan Time UTC +12.
You will often see time zones represented similar to UTC +3 or GMT+3. As an example, the UTC + 3 in Kaliningrad Time refers to that time zone being 3 hours ahead of UTC or Universal Coordinated Time, or if it is represented as GMT + 3 it refers to that time zone being 3 hours ahead of Greenwich Mean Time. The same is true for each of the Russia time zones. Many places in Russia show time zones offsets as a reference to the current local time in Moscow. Staying with our example, Kaliningrad Time would be referenced as MSK-1 as they are one hour behind Moscow Time.

Recent time observance changes in Russia:
March 27, 2011 Irkustsk moved its time zone observance to the Krasnoyarsk Time Zone. It did not adjust its clocks one hour ahead on the start of daylight saving time which occurred on March 28, 2011. This resulted in Irkustsk observing the same time as the Krasnoyarsk Time Zone
March 28, 2011 the number of time zones in Russia was reduced from eleven to the current nine. The Udmurt Republic and Samara Oblast which had been observing Samara Time (UTC +4) began observing the Moscow Time Zone. Kemerovo Oblast began observing Omsk Time and Chukotka Autonomous Okrug and Kamchatka Drai, which had been observing Kamchatka Time (UTC +12,) began observing Magaden Time.

February 8, 2011 Russia President Dmitry Medvedev issued a decree that daylight saving time would be observed in Russia on a year round basis. The decree was ratified as a bill by the Russian Parliament, or State Duma, on April 19, 2011. Russia began daylight saving time on March 27, 2011 and each time zone will remain on such time year round.

March 18, 2014 Russia and Crimea signed a treaty which states Crimea will become part of Russia. Crimea has announced they will advance clocks two hours ahead on March 30, 2014 at 2:00 AM local time to be consistent with Moscow Time.
Russia is considering further changes which would result in the country possibly reducing the number of time zones in use. It is thought that these changes will help facilitate trade and commerce not only within Russia but also with Asia and Europe.

When traveling in Russia be aware that most airlines and airports follow local time but many railroad schedules follow Moscow Time. Kaliningrad is an exception and Sakhalin Railway typically shows both local and Moscow times.
Russia Time Zone Map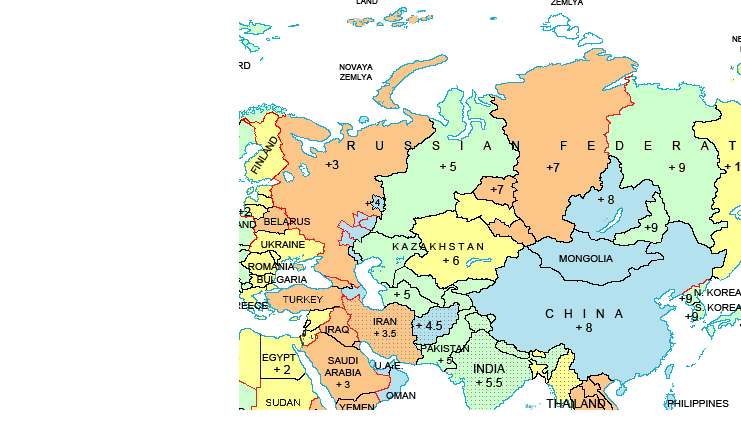 Kaliningrad
Time
UTC + 3
(USZ-1)
Moscow
Time
UTC + 4
(MSK)
Yekaterinburg
Time
UTC + 6
(YEKST)
Omsk
Time
UTC + 7
(OMSST)
Krasnoyarsk
Time
UTC + 8
(KRAST)

includes all of Kaliningrad Oblast



Moscow, Saint Petersburg and most of western Russia including Samara and Udmurt Republic

Bashkortostan, Chelyabinsk Oblast, Khanty-Mansi, Kurgan Oblast, Orenburg Oblast, Perm Krai, Sverdlovsk Oblast, Tyumen Oblast, Yamalo-Nenets




Altai Krai, Altai Republic, Novosibirsk Oblast, Kemerovo Oblast, Omsk Oblast, Tomsk Oblast, and most Western Siberia Regions




Khakassia, Krasnoyarsk Krai Tuva, and most of central and eastern Siberia
Tuesday
7/29/2014
11:39 AM
UTC/GMT+03:00

Tuesday
7/29/2014
12:39 PM
UTC/GMT+04:00

Tuesday
7/29/2014
2:39 PM
UTC/GMT+06:00

Tuesday
7/29/2014
3:39 PM
UTC/GMT+07:00

Tuesday
7/29/2014
4:39 PM
UTC/GMT+08:00

Irkutsk
Time
UTC + 9
(IRKST)
Yakutsk
Time
UTC + 10
(YAKST)
Vladivostok
Time
UTC + 11
(VLAST)
Magadan
Time
UTC + 12
(MAGST)
UTC/GMT
Time

Irkutsk Oblast and Buryatia

Amur Oblast, western Sakha Republic and Zabaykalsky Krai
The Jewish Autonomous Oblast, Khabarovsk Krai, Primorsky Krai, central Sakha Republic and Sakhalin Island
Magadan Oblast, Chukotka, Kamchatka Krai, Kuril Islands, and eastern Sakha Republic

Universal Coordinated Time
and
Greenwich Mean Time

Tuesday
7/29/2014
5:39 PM
UTC/GMT+09:00

Tuesday
7/29/2014
6:39 PM
UTC/GMT+10:00

Tuesday
7/29/2014
7:39 PM
UTC/GMT+11:00

Tuesday
7/29/2014
8:39 PM
UTC/GMT+12:00

Tuesday
07/29/14
08:39 AM
UTC/GMT+00:00

Time Zone Look Up by Country with Current Local Times